Bob Schulz writes:
Based on my experiences with my Toshiba I picked my new tablet based on avoiding what kept me from actually using the tablet like an actual tablet.
Like any LCD screen, my Toshiba didn't like bright light, and had a narrow view angle.
So in most conference room settings, if laid on the table the screen is not visible. If you take it outside, you really can't even tell if it is turned on.
That led me to my new machine, a Motion LE 1600 with the "View Anywhere" screen option.
Wow. It is fabulous.
Bright screen, super wide angle viewing, and it really is completely viewable outdoors.
Combine it with the hot dock docking station, no standby needed, just yank it out of the dock and use it, stick it back in when you return.
I think the technology may be catching up with the promise.
Cheers,
Bob
____________________________
Robert C. Schulz, AIA
Director of Facilities Management
Humboldt State University
robert.schulz@humboldt.edu
Posted
on Monday, June 27, 2005 at 02:00PM
by
Joel
|
Post a Comment
Available now from dealers. Getting good initial reviews. Check it out here: Motion Computing - Tablet PC Products and Services
Posted
on Sunday, June 12, 2005 at 09:39PM
by
Joel
|
Post a Comment
PC Institute: X41 Tablet Webcast has a great 22–minute film about the X41 and its uses. (Subtle strangeness: The speakers – mostly Lenovo execs – have been obviously well-drilled. But their facial expressions makes them look like they've been threatened with unspeakable horrors if they do it wrong. I'm not sure if this is the new Chinese capitalism at work, or just poor direction. But the production values and the script are great. Worth watching. And while I'm perfectly happy with my TC-1100, I think I could also make peace with an X41…:-))
Posted
on Sunday, June 12, 2005 at 05:01PM
by
Joel
|
Post a Comment
Posted
on Sunday, June 12, 2005 at 12:11AM
by
Joel
|
Post a Comment
If you are considering the purchase of a tablet pc, Tablet PC Reviews is a very good site to visit.
Posted
on Tuesday, June 7, 2005 at 02:36AM
by
Joel
|
Post a Comment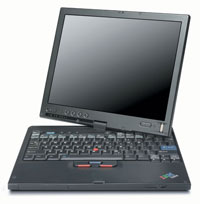 This could signal a heating up in the tablet market. While it's clearly YAT (yet another tablet), having the respected IBM name – even in its recently-donned Mao suit – in the game will probably encourage some fence-sitters to try a tablet. ThinkPad X41 Tablet From IBM/Lenovo Announced - Digital-Lifestyles.info
Posted
on Monday, June 6, 2005 at 05:57PM
by
Joel
|
Post a Comment
jkOnTheRun: Are Tablet PCs distracting in meetings? jk's comments are always light but enlightening. Michael Hyatt, president of Thomas Nelson Publishing, recently gave up his tablet for a Mac PowerBook, and I can understand the temptation to do so. But he says one of the reasons was that taking out a tablet in a meeting always was a distraction.
Like jk, I've found the opposite to be true. This piece is worth reading; see link above.
Posted
on Saturday, May 7, 2005 at 12:47PM
by
Joel
|
Post a Comment
Posted
on Monday, May 2, 2005 at 01:14PM
by
Joel
|
Post a Comment
AkihabaraNews writes;
This is a killer prototype! Ruby, presented at the IDF Japan 2005, is a PC the size of a PDA…more (Thanks, Rick!)
Posted
on Wednesday, April 20, 2005 at 12:56AM
by
Joel
|
Post a Comment